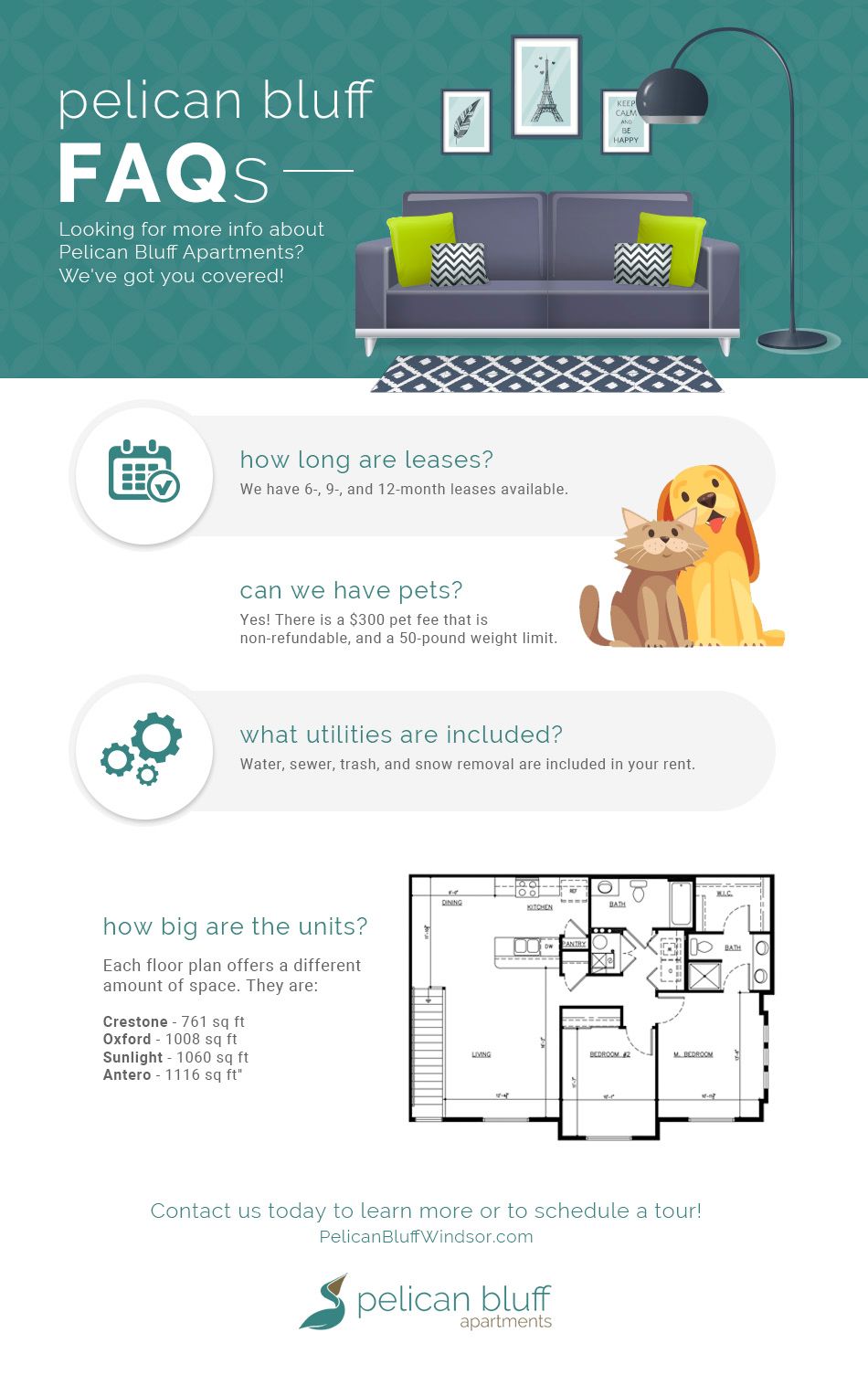 How do I submit a maintenance request?
To submit a maintenance request, contact the onsite manager or call our corporate office. Onsite maintenance services live in the same apartment complex, so there's no need to wait for a technician to drive to you!
What are the lease lengths offered at Pelican Bluff?
We offer six-month, nine-month, and 12-month lease terms to our applicants.
Is there a pet deposit or other pet restrictions?
We require a $300 non-refundable pet fee as well as an additional rent charge of $25 per pet. Pelican Bluffs does have a 50-pound weight limit and restricts ownership to two pets per unit.
Is there guest parking available at the apartment complex?
Unassigned parking spaces and street parking are available for guest use.
Is on-site storage, such as a garage or storage unit available to tenants?
Although we do not have on-site storage available, we do offer a discount code for Windsor Self Storage.
What utilities are included in the monthly price?
Water, sewer, and trash are included in your monthly rent. Snow removal services, when applicable, will be provided by Pelican Bluff.
How big are the apartment units?
Our Crestone floorplan is 761 sq. ft. Our Sunlight floorplan is 1060 sq. ft. Our Antero floorplan is 1116 sq. ft. The Oxford floorplan is 1008 sq. ft. If you would like to tour our apartments for rent, please contact us or stop by today!
Are all units updated?
Our units are newly constructed with spacious open floor concepts, granite countertops, and stainless steel appliances in the kitchens. We offer a variety of top-tier appliances and amenities that provide you with luxurious living in everything that you do.
How much is the security deposit?
Our security deposits are a flat rate of $600 per application. Applications also carry a $30, non-refundable application fee per adult.