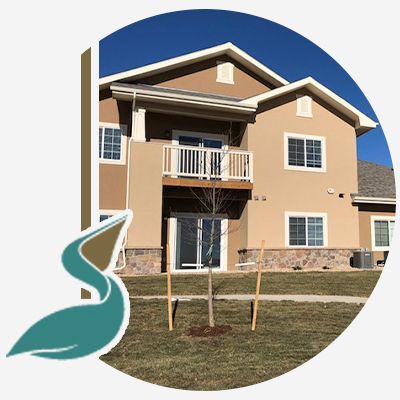 At Pelican Bluff Apartments in Windsor, Colorado, we are passionate about providing our tenants with both luxury and affordability. Our one and two-bedroom apartments are designed with comfort and cost-consciousness in mind, ensuring that our tenants can enjoy a high-end living experience without breaking the bank. Our spacious floor plans are sure to impress, so don't hesitate to call our office today and schedule your own walkthrough.
we offer four different floor plans, all of which are meant to provide privacy and comfort.
antero
The Antero offers two large bedrooms with plenty of storage space for all your belongings. The master bedroom is incredibly spacious with a walk-in closet and attached full bathroom. The kitchen and dining area are generous in size, providing enough space to prepare meals for you and your family comfortably. The living room, second bathroom, and laundry rooms offer everything you need to enjoy a comfortable life in Windsor!
crestone
This one-bedroom apartment is the perfect choice for anyone looking for a new home. It offers a luxurious living room, dining space, brand new kitchen, laundry room, bathroom, and a cozy single bedroom, all in one convenient location. Enjoy all the comforts of home in this one-bedroom apartment, which is the ideal spot for any new resident.
oxford
This apartment features a master bedroom with an attached bathroom and walk-in closet, a second bedroom, a kitchen, a laundry room, and a living/dining area. All of these amenities make this the perfect apartment for a small family.
sunlight
This two-bedroom layout is an excellent option for any resident! The master bedroom features an attached bathroom and walk-in closet, perfect for your storage needs. You'll love the spacious kitchen and dining room with a pantry area for added convenience. Relax in the living room, or use the second bedroom and bathroom for extra guests. You'll also appreciate the convenience of having washer and dryer hookups in the laundry room.
amenities
SELECT UNITS ONLY
Our newly finished units offer beauty and comfort with amenities such as granite countertops, walk-in closets*, washer and dryer hookups, patios and balconies*, and more! Our on-site maintenance teams strive to meet the needs of all our tenants, whether they live alone or with family. Enjoy the convenience of knowing that all your needs are taken care of, and let us provide you with the comfort and beauty you deserve. Our friendly and knowledgeable team is ready to answer any questions, comments, or concerns you may have. Reach out to us today to get all the information you need!
At Pelican Bluff Apartments in Windsor, we believe in providing our tenants with an unrivaled level of privacy — something not always found in apartment living. Our one-bedroom and two-bedroom designer floor plans come in both garden level with a patio walk-up and balcony space on our upper-floor units.
To get a better idea of what we have to offer, take a look at our floor plans and book an appointment with our office. If you'd like to learn more, you can explore our gallery page and the different amenities we have in-house. We look forward to welcoming you to the community!